Author Visits
Engaging Author Visits
Mitch and Martha are masterful at getting students excited about reading and inspiring them to tell tales in an engaging manner and to write their own stories. Most of Mitch and Martha's story collections and picture books are well-crafted retellings of folktales. Their most recent books are a series of graphic early readers loosely based on world tales about fools or "Noodleheads." They are co-authored with and illustrated by Tedd Arnold, best selling creator of the Fly Guy series. The first, Noodlehead Nightmares, was a finalist for the 2017 Children's Choice Book Award. The second, Noodleheads See the Future, was a Junior Library Guild Selection for Spring 2017 and received starred reviews from School Library Journal and Kirkus Reviews. The third will be published in February 2018.
Choose From Two Kinds of Author Visits:
Don't Be a Noodlehead
This will be a combination of storytelling and a power point presentation including Tedd Arnold's illustrations from the Noodlehead series. Tales of fools, also called "noodles" or "noodleheads," have been told for as long as people have told stories. The expression "Fortune, that favors fools," is apt, for, in spite of their foolishness, things usually turn out fine in the end for the fool. Perhaps this is because they are generally kind and well meaning. Noodlehead stories help children to understand humor and logical thinking. Mitch and Martha have always loved telling these tales and wrote a collection of retellings, Noodlehead Stories: World Tales Kids Can Read and Tell (August House Publishers, 2000). They are now collaborating with Tedd Arnold, celebrated author of the best selling Fly Guy books, on a Noodleheads series of graphic early readers. Mitch and Martha will tell stories and share the creative process involved in taking ideas from these old stories that date back hundreds, even thousands of years, and setting them in the present day. They will explain how they work with Tedd on creating the books in the series, and answer students' questions. Teachers can follow up by downloading a writing unit developed by Mitch and Martha for creating "Noodlehead" tales based on folktale models. (Different presentations geared to age level: for example, K-1, 2-3 and 4-5)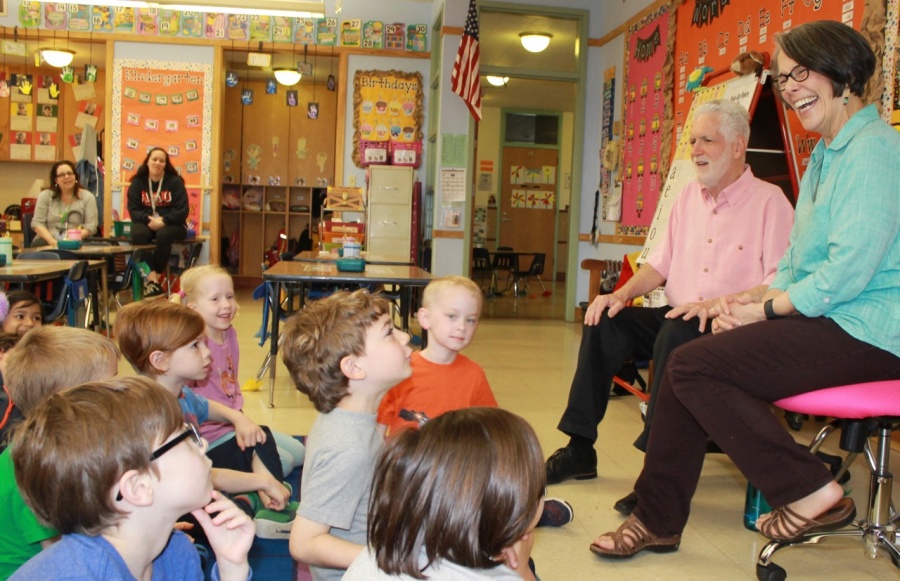 Hear a Tale, Spin a Tale
The focus of this visit will be on various kinds of world folktales, which might include one "Noodlehead" tale. Mitch and Martha will tell stories, give tips on telling, and answer questions. Afterward, students will be excited about telling tales themselves. The story collections that Mitch and Martha have written include tips for telling which make it possible for all students (second grade and up) to choose a tale, learn it, and share it in front of classmates. Those who choose to do so can tell for other classes as well. Some of the tales are simple and short enough that they can be retold by first graders and even kindergartners.
Mitch and Martha's performances also serve as a catalyst for creative writing. They emphasize that folktales were made up by ordinary "folks," and that children can make up great stories as well. Teachers can follow up by downloading a writing unit developed by Mitch and Martha for creating "How and Why" stories or "Noodlehead" tales based on folktale models.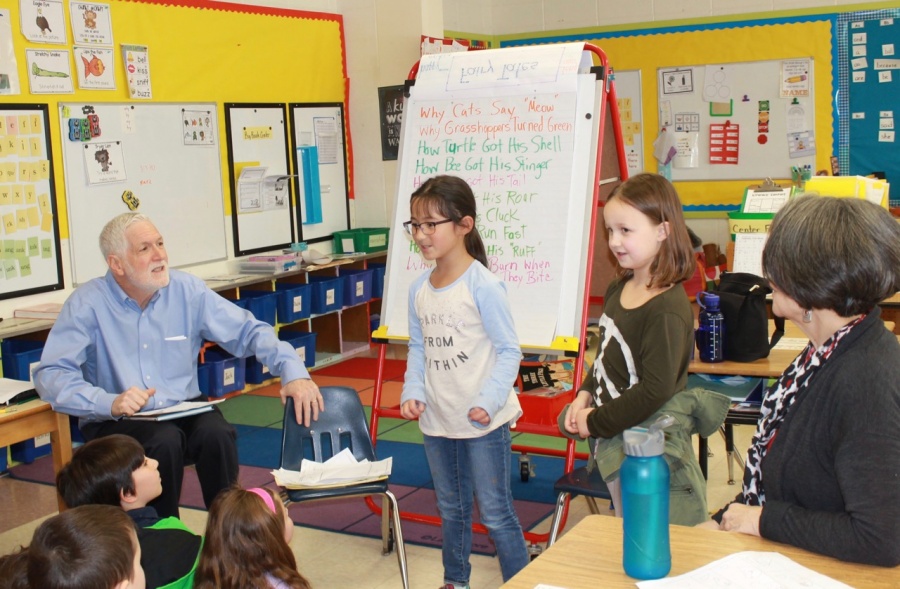 If you are able to have Mitch and Martha visit for more than a day, they can visit individual classrooms and give storytelling workshops.
Mitch and Martha will be happy to discuss any details or concerns you have regarding an Author Visit. They are willing to be flexible in order to adapt to the needs of your school.
For tips from experts on how to have a successful author visit, click here.
For full information on all of Mitch and Martha's books and recordings, see Books and Recordings. To download a printer-friendly list of all of Mitch and Martha's books, including awards and reviews, click here. This document is useful for sharing information with colleagues regarding a potential author visit with Mitch and Martha.
Reviews from Author Visits
"Olde Sawmill Elementary School in Dublin, Ohio, enjoyed a fantastic two days with Beauty and the Beast Storytellers! All of us - students, staff and parents - were mesmerized by their spectacular tandem storytelling. They presented folk tales appropriate for different grade levels and were so entertaining, the kids didn't even realize how much they were learning in the process. Addison wrote, 'I loved how they used different voices and told funny, scary, sad stories.' Daniel said, 'I learned that we use our body, face, and voice to tell stories, and anyone can do it.' Several students went home that night and gathered the neighborhood children together to tell stories they had heard earlier in the day.
When busy teachers come in early before school to attend a workshop, you know something special is happening. Mitch and Martha's inspiring presentation on the 'how to' of storytelling and its positive impact on students helped teachers integrate storytelling into their curriculum. Months later the excitement is continuing, and kids like third grader Camryn are learning that 'you don't have to be nervous about telling a story to a lot of people.' And now they are reading, visualizing and telling folk tales too!
Mitch and Martha were wonderful to work with, and we hope to have them return for a longer visit."
Marilyn Zerby
Library Media Specialist
Olde Sawmill Elementary School
Dublin, OH
"The visit that Kaegebein School experienced from Beauty and the Beast Storytellers ranks among our top author visits. Mitch and Martha truly love their work, and their enthusiasm is contagious. Every audience was charmed by their spell. They seem to fine-tune each performance to be in complete synchronization with each other, and with the audience. Their performances are definitely not 'one size fits all.'
In addition to Mitch and Martha's stellar performances, everyone enjoyed and benefited from our preparation for Beauty and the Beast's visit. The students loved reading folktales and learning about folklore. Teachers were thrilled with the students' success in writing 'Noodlehead' and 'How and Why' stories. As a result of Mitch and Martha's visit, many teachers plan to integrate more folklore into the curriculum.
I highly recommend Beauty and the Beast Storytellers to any school thinking of having an author visit."
Pat Rizzuto
School Library Media Specialist
Kaegebin Elementary School
Grand Island, NY
"Mitch and Martha's visit was a wonderful experience for both students and teachers at Saint Maur International School. They confidently engaged with and enthused students with their entertaining and dramatic storytelling. Laughter and excitement filled the library as they performed for all levels of our K-12 school over two days.
Their books are wide-ranging, covering many different cultures and time periods from traditional folk tales to modern tales. This is particularly valuable for an international school community such as ours.
We were also very impressed with their professionalism and easy going manner which made their author visit delightful and stress free."
Maureen Fitzgerald, Head of English
Jennifer Schumacher, Head Librarian
Saint Maur International School
Yokohama, Japan
"Beauty & Beast Storytellers have so much talent wrapped in one package! They are authors, dramatists and educators bursting with energy and enthusiasm. Their books delight all audiences and when they 'talk their books,' it's an unforgettable performance. Students continue to request their books and boast how they are practicing the storytelling. We will surely invite them back again for the fourth visit to our school!"
Sue Penney
School Library Media Specialist
Milton Terrace Elementary School
Ballston Spa, NY
"Mitch and Martha's Author Day visit was totally wonderful! The students, teachers, and parents talked about it for months afterwards. For about six weeks before they arrived, the teachers and I read folktales from each of their books. The children loved the stories! Some then wrote their own "How and Why" stories and "Noodlehead" stories based on Mitch and Martha's books. Some students learned stories from the books and told them to their classmates, and then went to other classes as well. The classes created numerous bulletin boards displaying their writing, drawings, and even "noodleheads" made from spiral pasta! There was such a sense of excitement on the day of the Author Visit. Mitch and Martha did not disappoint! They knew how to choose the perfect stories for a particular grade level. Their presentations were dynamic and involving. Their tremendous warmth and love of what they do was contagious. They left the students with the best gift of all - feeling they could make up and tell great stories as well."
Kathy Witter
School Library Media Specialist
Lindbergh Elementary School
Buffalo, NY
"Martha and Mitch's program is a terrific bridge between an author experience and a cultural performance. Their collections of multicultural tales are perfect for solo reading, reading aloud, or telling. They have vast experience working with children and a passion for what they do. It shines through in their dynamic performances that keep kids fascinated and laughing, and feel more like sharing than telling."
Michele Linse
School Library Media Specialist
Putnam Valley Elementary School
Putnam Valley, NY
"Our students recently had the wonderful opportunity to listen to 'Beauty and the Beast Storytellers' tell their tales. We were fortunate enough to have Mitch and Martha collaborate with faculty on the school's study of folklore before their visit. During the school day each grade level listened to a custom presentation geared towards the type of folklore they were learning. Mitch and Martha also performed in the evening at our annual Octoberfest which was a huge success and gave family members the opportunity to enjoy the art of storytelling with their children. Beauty and the Beast Storytellers were flexible and made having an author visit simple. They are great communicators which made it easy to work out all the details. Our school highly recommends Mitch and Martha for your next author visit. Since their visit, I have been told by some of our students, if you haven't heard them tell the story of Tailypo, you haven't yet heard a story!"
Colleen M. Goodwin
School Library Media Specialist
Union East Elementary School
Cheektowaga, NY
Preparation and Follow-Up for an Author Visit
The more familiar students are with Mitch and Martha's books, the more likely that their visit will get students excited about reading, storytelling, making up their own stories, and writing. Some of the suggested activities listed below can be done before a school visit, and many can be done afterward as well. In fact, it's better, for example, to plan to do a storytelling unit after Mitch and Martha visit so that students will have had the experience of watching them tell stories in person. Watching videos is never the same as seeing a storyteller in person.
Mitch and Martha's goal is to make children realize that they are already storytellers and can bring stories to life with nothing more than vocal and facial expression and hand gestures to help listeners visualize. During their visit to your school Mitch and Martha will emphasize that most of the stories they tell are folktales that were made up by ordinary "folks," and there's absolutely no reason children can't make up great stories like the ones they tell.
Here are several ways to familiarize students with Mitch and Martha's books:
Print out our Read Poster
In 1985, the American Library Association (ALA) began a tradition of asking some of the world's best-known celebrities to lend their images for use on large posters with a simple but powerful message--READ. ALA now allows schools and libraries to buy the rights to create their own poster with local celebrities. We worked for many years at Panama Central School and their fabulous librarian, Patti Lundquist, asked us to pose for one. ALA allows it to be copied for not-for-profit use, so feel free to make a copy if we will be visiting your school. Just click on the small poster.

Tell/Read the Stories
Teachers, librarians, parent volunteers, and older students can tell or read the stories to younger children. The stories are folktales and are meant to be told without the book. However, the lively, colloquial language also makes them effective as read-alouds.
Watch or Listen to Mitch and Martha Tell a Story
Teachers can click on "View Video Clips" at the top of this page to show Mitch and Martha telling "The Boy Who Was Afraid of Plants" from Scared Witless: Thirteen Eerie Tales to Tell. It is a good story for a wide range of ages and will be enjoyed by K-5 students.
You can also play Mitch and Martha telling stories from their CDs: Stories in My Pocket or How and Why Stories. It is fine to play stories over the school loudspeaker as a way of introducing the whole school to Mitch and Martha's stories -- OR to children telling; see below for details.
Watch Movie Clips and Play Recordings of Children Telling Stories from Mitch and Martha's Books
If you click on "View Video Clips" at the top of this page and scroll down, you will find several child tellers -- and more will be added in the future so keep checking back. Watching the video clips will help your students understand what Mitch and Martha's books are all about -- that they are stories that are meant to be told. When children hear other children telling stories, the idea of "That sounds like fun. I'll bet I could do that, too" is planted in their minds.
Many students who struggle in school are fantastic storytellers. They may have already "checked out" when it comes to working hard at reading and writing because they don't feel they're good at them. However, they immediately recognize storytelling as a skill they use in their everyday lives. Storytelling is an AMAZING confidence booster and student enthusiasm for storytelling leads to excitement about reading more stories and making up their own, especially if teachers encourage and guide them.
Watch Kevin and Savannah, two fantastic third-grade tellers. Kevin tells his version of Mitch and Martha's original story, "The Girl Who Scared Herself," from their book, Scared Witless: Thirteen Eerie Tales to Tell He is a total natural who put his truly unique spin on the story. Savannah, who is incredibly poised and expressive, tells Mitch and Martha's version of "The Perfect Name, a folktale from Vietnam.
Show Morgan telling "Dead or Alive" from Noodlehead Stories: World Tales Kids Can Read and Tell to second grade and up. She is a fifth grader who says, "I never raise my hand to say anything in class and everyone thinks of me as shy -- so I stunned my teachers and classmates when I told my story. I was glad that I got to show everyone another side of me."
Older students (third grade and up) will also love Jonathan telling "Do They Play Soccer in Heaven" from Stories in My Pocket (as long as you think there is no problem at your school with the reference to heaven in the story -- the concept is common to so many religions, after all). It is great to see how he overcomes his initial nervousness while telling the story for his classmates and their families.
For K-2 show Bhavish telling "The Fearsome Monster in Hare's House" from Through the Grapevine: World Tales Kids Can Read and Tell and Stef, a second-grader with special needs who does a wonderful job telling "The Spooky House" (written by Mitch and Martha but not yet published in any of their books).
From the CDs: Play "Why the Baby Says Goo" (told by nine-year-old Sam Harris) from How & Why Stories for K-6.
For grades 3-5-- play "Tilly" from Stories in My Pocket (told by twelve year-old Gwen Niven) -- they love the scary ones.
If you own Children Tell Stories: Teaching and Using Storytelling in the Classroom, show students (grades two and up) the twenty-minute feature on the accompanying DVD. They are able to see how scared the third graders who are learning to tell stories are at the beginning, how much fun they have in the process, and how great they feel about themselves after having accomplished something that seemed so difficult.
The Hidden Feast, part of the larger and beautifully illustrated LittleFolk picture book series, also has a free animation online and will be enjoyed by K-3 students.
Show Students Animated Versions of Mitch and Martha's Folktales on Story Cove.
Mitch and Martha have five books as part of the Story Cove series and all have free animated versions (including Mitch and Martha's voices). Just click on the following titles to watch the movies:
The Well of Truth
Rooster's Night Out
Stolen Smell
Why Koala Has a Stumpy Tail
Tale of Two Frogs

Although Mitch and Martha might tell some of these stories during their visit, playing the animations for students would be a great introduction. However, it is even better to show them after they have heard the story so that they have already used their own imaginations to create the story in their minds.
The Story Cove animations are aimed at primary age students but even fourth and fifth graders enjoy watching them and can be encouraged to retell them. Along with reading, writing, speaking, and listening, two more literacy skills have been added for teachers to address: "visually representing" and "viewing." After students watch Mitch and Martha tell stories, have them view any of the Story Cove movies. For example, the illustrator of "The Well of Truth," Tom Wrenn, has depicted the story the way he saw it in his mind. Have children figure out how they might tell it, or even just a part of it, using vocal and facial expression and hand motions to "visually represent" the story and help listeners visualize it in their minds.
Have students make up "How" and "Why" or "Pourquoi" Stories
Everything you need to know is in Pourquoi Play: Practicing Oral Language Skills by Making up "How" and "Why" Stories Extemporaneously, a handout that you can download. And if you wish, follow up this activity by having students write the stories down and develop them fully using Martha and Mitch's How & Why Writing Unit. You can also download a complete Noodlehead Writing Unit.
Use the Free Lesson Plans Available for Many of Mitch and Martha's Books
Although the focus is on K-3 for these Lesson Plans, many have information that is useful for other grade levels. Click on any of the following titles and then look for "To download lesson plans . . . "
The Ghost Catcher
The Hidden Feast
Priceless Gifts
Rooster's Night Out
The Stolen Smell
A Tale of Two Frogs
The Well of Truth
Why Koala Has a Stumpy Tail
Do Comparisons of World Folktales
Here's one example: Martha and Mitch have several world folktales in their books that explain various things about how chickens/roosters look and act. Two of them have animations online. Rooster's Night Out is a Cuban folktale that explains why the rooster crows the sun up each morning. The Hidden Feast: A Folktale from the American South explains why roosters often scratch in the dirt. To watch animated versions, just click on the titles above, and look for the link to watch the movies." "Why the Sun Comes Up When Rooster Crows," a tale from China, and 'Why Hens Scratch in the Dirt," from the Philippines, can be found in How and Why Stories: World Tales Kids Can Read and Tell.
Teach Your Students To Tell Stories
Although you might argue that some of your students can already tell whoppers about what happened to their homework, it is hard to deny that being able to tell a coherent, engaging story is an important life skill. See Why Children Should Be Given the Opportunity to Tell Stories which you can download and print out if you wish to convince your colleagues of the value and importance of storytelling. Also check out Reviews of Residencies for some powerful testimonies by teachers, administrators, and students about telling stories.
Storytelling helps teachers meet numerous learning standards. Click here for a sample list; if you keep scrolling down, you will also find a position statement from the National Council of Teachers of English on the power of storytelling as a teaching tool.
Mitch and Martha's Children Tell Stories: Teaching and Using Storytelling in the Classroom has all the information a teacher needs to know to get students telling stories and the companion DVD includes twenty-five world folktales that can be printed out for classroom use. Their story collections are chock full of tellable tales and provide lots of ideas for how to follow-up with storytelling and writing. The collections include: Stories in My Pocket, How and Why Stories, Noodlehead Stories, Through the Grapevine, Scared Witless and Forty Fun Fables.
Play Storytelling Games
The games included in Children Tell Stories (pages 34-45) are perfect for classroom use, but be sure to check out the Storytelling Games section on this site as well. Students love the seven letter sentence game and it shows them that they don't need a television or a computer screen or even a game to have fun with friends -- just a paper and pencil.
Selling Books
Schools can buy books from Mitch and Martha, the publishers, or through a local bookstore. If you choose to buy from Mitch and Martha, they will give a 15% discount. Once you have made arrangements for a school visit, Mitch and Martha will provide an order form that reflects the discounted prices and a brief description of their books; these forms can be copied and sent home to parents.
Note well: No matter how you decide to acquire the books, be sure to allow plenty of time to fill your order.
Autographing Books
Mitch and Martha are happy to autograph books. It's best to have the books marked with sticky notes on the front so it will be clear to whom they should be signed. Depending on how many are to be signed, there are a couple of ways this can be done:
1. If there is not a large amount, you can set aside a time for students to come to a designated spot (preferably the library) and they can line up to have their books signed. This does take longer so it's not advisable if there is a large number to sign.
2. If there is a large amount, it's best for Mitch and Martha to sign them during any time off from presentations during the day and after school. Some schools have arranged for them to have books to sign in their hotel room the night before their visit.
3. If you want to give each child in your school a bookmark with Mitch and Martha's photo and signature, click here to download a sheet with six bookmarks that can be photocopied onto card stock. If you wish to create your own bookmark, they will happily sign it.