Books and Recordings
Noodlehead Stories: World Tales Kids can Read and Tell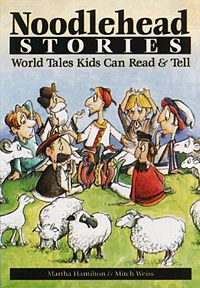 Table of Contents
October, 2000, August House Publishers,
1-800-284-8784 or www.augusthouse.com
2001 Notable Social Studies Book for Young People (Award given by the National Council for the Social Studies and the Children's Book Council)
2001 Parents' Choice Recommendation
Because we've all been caught not using our brains at one time or another, everyone enjoys a good numskull tale. Noodlehead Stories, a collection of multicultural folktales, reminds us that we are not alone when we hear a story in which someone else is the fool. Although they're told primarily for entertainment, much about human nature can be learned by reading and telling stories featuring the fool. Knuckleheads come in all forms and shapes-young and old, weak and powerful, rich and poor, male and female. There's a ninnyhammer for everyone!
Not meant to be told for the purpose of making fun of others, these noodlehead stories are presented in the spirit of laughing at the 'noodlehead' in us all. Designed for use in primary and middle grades, this book is perfect for children to read on their own or tell in front of a group. It's also a wonderful resource for parents, for adults who tell stories to children, and for teachers to use in conjunction with language arts or social studies curricula.
Book Reviews: Noodlehead Stories
"Chelm. Gotham. Your home town. What do these places have in common? Easy. Foolish people inhabit all three. True, isn't it? We've all encountered people who are "a few tacos short of a combination plate." In fact, we've all been those fools more often than we'd like to admit. Surely it will make us all feel better to know that we're not the only ones. Every country, from Russia to the Philippines has its share of "noodleheads." Martha Hamilton and Mitch Weiss (whose other volumes for young storytellers have received much well-deserved praise) have come up with another winner. This is funny stuff---stories of farmers whose legs get mixed up, sons who follow instructions too literally, and folks who are convinced that they are dead when they're not. The stories are told with gentle humor--in the spirit of chuckling over the foolishness in all of us, rather than ridiculing "dummies."
The tales are short and snappy--two or three pages--and are followed with a paragraph about the story and a few helpful tips for telling. At the end of the book are sections of general hints for choosing, learning, and telling stories and (for the more inquisitive) source notes citing motifs and tale types. Great for anyone who works with kids and stories."
- The Story Bag: A National Storytelling Newsletter
"Martha Hamilton and Mitch Weiss, authors of Noodlehead Stories, have produced two other collections of stories for children to tell: Stories in My Pocket: Tales Kids Can Read and Tell (Fulcrum, 1996) and How & Why Stories: World Tales Kids Can Read and Tell (August House, 1999). You may remember them as well for their classic book on students as tellers entitled Children Tell Stories: A Teaching Guide (Richard C. Owen, 1990).
Noodlehead Stories includes twenty-three tales from around the world. There are some familiar fools here - Jack, Juan Bobo, the fools of Gotham and Chelm, and others who are less well known. The stories are brief and simply told, but make good use of dialogue to make the retellings lively. Immediately following each story are suggestions for telling the story and notes on the story. The suggestions include tips such as which parts are especially important for listeners to understand and points at which facial expression or gesture can help communicate the story. The notes might talk about variants of the stories (more complete information on sources and variants is found in an appendix) or comment on the story content and meaning. Since one purpose of the book is to get young readers sharing the stories orally, a generous chapter on general tips for telling covers the basics of choosing, learning, and telling stories.
This will be a popular book in school and public libraries. Most people enjoy a good laugh and, as the authors point out in the introduction, we all have a bit of the noodlehead in us. As Rabelais said, "If you wish to avoid seeing a fool, you must first break your mirror." The authors make some good points about the difference between making fun of others and laughing at that universal fool in all of us. They also caution young tellers to use humorous words such as ninnyhammer and numbskull rather than the more critical and hurtful words such as stupid and dumb.
Noodlehead Stories will find favor not only with students who want to tell stories, but also with young readers who are looking for easy, fun stories to read. I would use them, too, with beginning tellers of any age in workshops."
- The Appleseed Quarterly
"Some of the stories included here are well known, such as "The Wise Fools of Gotham" (England) and "Seven Foolish Fishermen" (France), while others, like "When Giufà Guarded the Goldsmith's Door" (Italy), will probably be new to most youngsters. In the introduction, the authors explain the popularity of noodlehead tales around the world, and the fact that the same story is often found in more than one tradition. Tellers are also warned to be careful about using derogatory terms such as "dumb" or "stupid" to describe the fool, numbskull, or knucklehead. The selections are very short (none are more than two pages long, some are less than one), which makes them easy for the youngest, most inexperienced storytellers to perform. The fact that they are funny is a bonus: most kids love reading, telling, and listening to amusing stories. A short note about the tale as well as tips for telling it follow each piece. The authors also include ideas on how to choose a story and learn it, along with some basic guidelines for presenting it. There are also ideas for follow-up activities and source notes. Humorous black-and-white sketches appear throughout. A good storytelling tool for children."
- School Library Journal
"Admitting that they are well qualified to be presenting a gallery of numskulls, Hamilton & Weiss, professional storytellers collectively known as "Beauty and the Beast," offer 23 tales from nearly as many countries that take readers to Gotham and Chelm and introduce Juan Bobo, Giufà, and a bevy of unnamed ninnyhammers (mostly male, for as they point out, few tales of this kind feature girls or women). Budding tellers will find these short, simplified versions easy to learn and to perform, particularly because each is followed by practical tips for effective delivery. A section of general storytelling advice caps the lot, and for veteran raconteurs or folklorists, notes on tale types and variants are appended. Some of these episodes will be familiar from similar versions in picture books or Alvin Schwartz's easy-reader collections, but this makes a popular bridge between those and M.A. Jagendorf's classic Noodlehead Stories from around the World (1957) and the stories of Isaac Bashevis Singer. Illustrations not seen."
- Booklist
Told in a simple yet evocative style. The stories are no more than two or three pages long and are easy to learn. Each is followed by brief information that expands on the tale and some clear and specific tips for telling the story.
A world map in the front indicates from where came the versions told in the book. After the stories, Hamilton and Weiss provide good solid guidelines for choosing, learning, and telling a story. Finally, they provide thorough and detailed source notes at the end.
Not only is Noodlehead Tales perfect for its target audience of elementary and middle school students, it is an ideal resource for teachers, librarians and beginning storytellers. Even seasoned tellers might find a refreshing new story to add to their repertoires.
If you have ever had a day when you think you've joined the ranks of the noodleheaded, you'll find yourself in good company with Martha Hamilton and Mitch Weiss and Noodlehead Stories: World Tales Kids Can Read and Tell."
- Rambles, a Cultural Arts Magazine
"... Hamilton and Weiss have such a grand achievement in this collection. The stories presented are simple tales, with very clear points. Listen attentively to your peers. Learn to read between the lines. Be honest in your dealings. Common sense never came packaged in an easier to understand way: simple yet interactive storytelling can save the young all the headaches that they wish to be saved, and they can be entertained at the same time. Yes! There are 'hints' as to how to act out the tales, too; not all of us are naturally actors, and stories are born candidates for some colorful gestures . . ."
- Tale Trader