What's New
Noodleheads Do the Impossible receives a starred review from Kirkus Reviews.
"Empty-headed (literally) sibs Mac and Mac fulfill the title's promise with their grandest, daftest quest yet. Inspired by their uncle Ziti's "impossible" yarn about a snake and a frog that swallowed each other, the tubular twins decide to become famous for an impossible feat of their own. But what? Walking around the world? Counting all the stars above? Or all the grains of sand below? Each turns out to present certain difficulties—after counting a "bazillion" stars, for instance, Mac and Mac find more that have fallen into their mom's washtub and need to be rescued. "Are they heavy?" asks Mac. Mac responds: "No, they're light." (Ha, ha.) Adults, particularly those of a scholarly bent, will appreciate the fantastically detailed, tiny-type notes at the end about folktale motifs, variations drawn from diverse traditions, modern versions, idioms, and even the notion of "infinity." Readers younger of age and/or heart will chortle at the Macs' general cluelessness, then cheer them on as they do get "around the world" just in time for lunch—thanks to the intervention of frenemy Meatball, the only nonpasta player in Arnold's foodcentric cartoon frames, who turns their shoes around while they're napping. The little jokes embedded within the large ones are just as delightful, as when Mac and Mac try to figure out how to "always [put] your best foot forward." It's not as easy as grown-ups say it is. The sources may be old, but the drollery is timeless."
As of 2020, we're retiring from school visits and public performances.
Click here
for more information.
We have created Free Virtual Performances and "Ready to Go" Author Visits.
Click here
for more information.
Check out NoodleHeadsBooks.com
NoodleheadsBooks.com
was created by Holiday House Publishing. It includes an event kit, educator guides, games, writing prompts, and lots of fun information on all things Noodlehead.
Noodleheads Lucky Day
It's your lucky day!
Noodleheads Lucky Day,
number five in the Noodleheads series, is now available! Kirkus Reviews says, "Fun-loving kids will laugh out loud as Mac and Mac make mistakes but end up OK. Adults will enjoy the excellent story source notes."
Doom Day is Here! Not Doomsday! Critics love #4 in the Noodleheads Series!
The reviews for Noodleheads Fortress of Doom are coming in. Kirkus says, "A generous font, amusing comic-book-style artwork, the stories themselves, and excellent notes add up to a book that can be thoroughly enjoyed by one child or easily acted out in a readers' theater activity. Very old, very funny stories made evergreen thanks to the graphic format and inventive casting."
School Library Journal wrote, "Arnold's buoyant illustrations and the protagonists' goofy dialogue are sure to entice readers. Part of the joy of the series is the authors' notes at the end explaining the historical basis behind the Noodleheads' foibles. VERDICT The Noodleheads tackle fort-building and joke-telling in this likable and silly comic. A must-buy for libraries where the series is popular."
Don't Miss the Boat! Noodleheads Find Something Fishy Gets Starred SLJ Review!
* (Starred Review) Gr 1-3–The Noodlehead brothers, Mac and Mac, are back in this irresistibly funny graphic novel about misunderstandings and mistakes. The empty-headed boys go fishing after their mother pushes them out of the house on a beautiful day. Wordplay abounds, such as when the boys both literally and figuratively miss the boat. Arnold's exaggerated artwork complements the hilarious text. Side characters serve either to trick Mac and Mac or attempt to help them figure out life. The series reads like an updated (and, well, smarter) version of Harry Allard's The Stupids. The authors' notes at the end provide historical context for the adventures. Arnold, Hamilton, and Weiss borrow from many international sources of classic fools' stories, and the citations are a nice touch. Kids will feel like they have the upper hand while also reveling in Mac and Mac's foibles, and they might even learn a thing or two about logical reasoning. Even Mac and Mac learn something by the end, but when it comes down to it, they're still the same old Noodleheads. VERDICT A must-buy for graphic novel collections.–Gretchen Hardin, Sterling Municipal ¬Library, Baytown, TX
Noodleheads See the Future Wins Numerous Awards!
Noodleheads See the Future, the second book of the Noodleheads series was named a 2018 Theodor Seuss Geisel Honor Award Winner and Notable Book of the Year by The American Library Association! The series is a collaboration between Martha and Mitch and Tedd Arnold, best selling author/illustrator of the Fly Guy series. Named for the world-renowned children's author, Theodor Geisel, a.k.a. Dr. Seuss, the Geisel Awards are given to the "most distinguished American books for beginning readers." All three authors will be traveling to New Orleans in June to accept the Award at the American Library Association Conference. To read about the 2018 Geisel Awards, click here. If you want to know more about the Noodleheads Series and the collaboration between Tedd and Martha & Mitch, read this interview.
Click here to watch the brief video for the American Library Association where Mitch & Martha tell about the comedy of errors that ensued when they got the call from the Geisel Award Committee. It could be called "Noodleheads Answer the Phone to Receive an Award."
It also won the 2017 Aesop Prize from the American Folklore Society. Committee members wrote, "Arnold, Hamilton, and Weiss make sure that Noodleheads See the Future is firmly rooted in traditional tales, evidenced in the substantial source notes at the end of the book. The real magic, however, is the enormously child-friendly graphic novel format, illustrated in Tedd Arnold's signature style, that makes these timeless tales accessible to the very youngest readers. Children love stories in which they are smarter than the protagonist. The Noodleheads are going to be a hit!"
Noodleheads See the Future had already garnered starred reviews from School Library Journal and Kirkus Reviews, and was a Junior Library Guild Selection.
Mitch and Martha Featured on First Page of Ithaca Journal
When Noodleheads See the Future won the Geisel Award our hometown newspaper covered it nicely. To read the article Click here
Our Very Own READ poster
In 1985, the American Library Association (ALA) began a tradition of asking some of the world's best-known celebrities to lend their images for use on large posters with a simple but powerful message--READ. ALA now allows schools and libraries to buy the rights to create their own poster with local celebrities. We worked for many years at Panama Central School and their fabulous librarian, Patti Lundquist, asked us to pose for one. ALA allows it to be copied for not-for-profit use, so feel free to make a copy if we will be visiting your school. Just click on the small poster.

Our Trip to Japan
In April 2008 we spent three splendid weeks gazing up at cherry blossoms in full bloom, wandering through gorgeous temples and historic sites, being amazed by the friendliness of the Japanese people and their eagerness to help, eating sumptuous sushi (well, Martha at least - Mitch is a vegetarian) and (oh yes, we were working!) telling stories and leading workshops at International Schools in Japan. The photos are of Himeji Castle, Martha on the Philosopher's Walk in Kyoto, and us eating okonomiyaki, a kind of pancake that you cook yourself on a hotplate. A few highlights of the trip: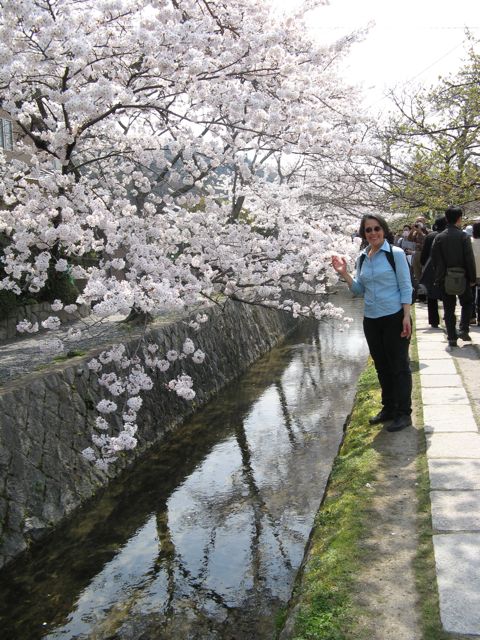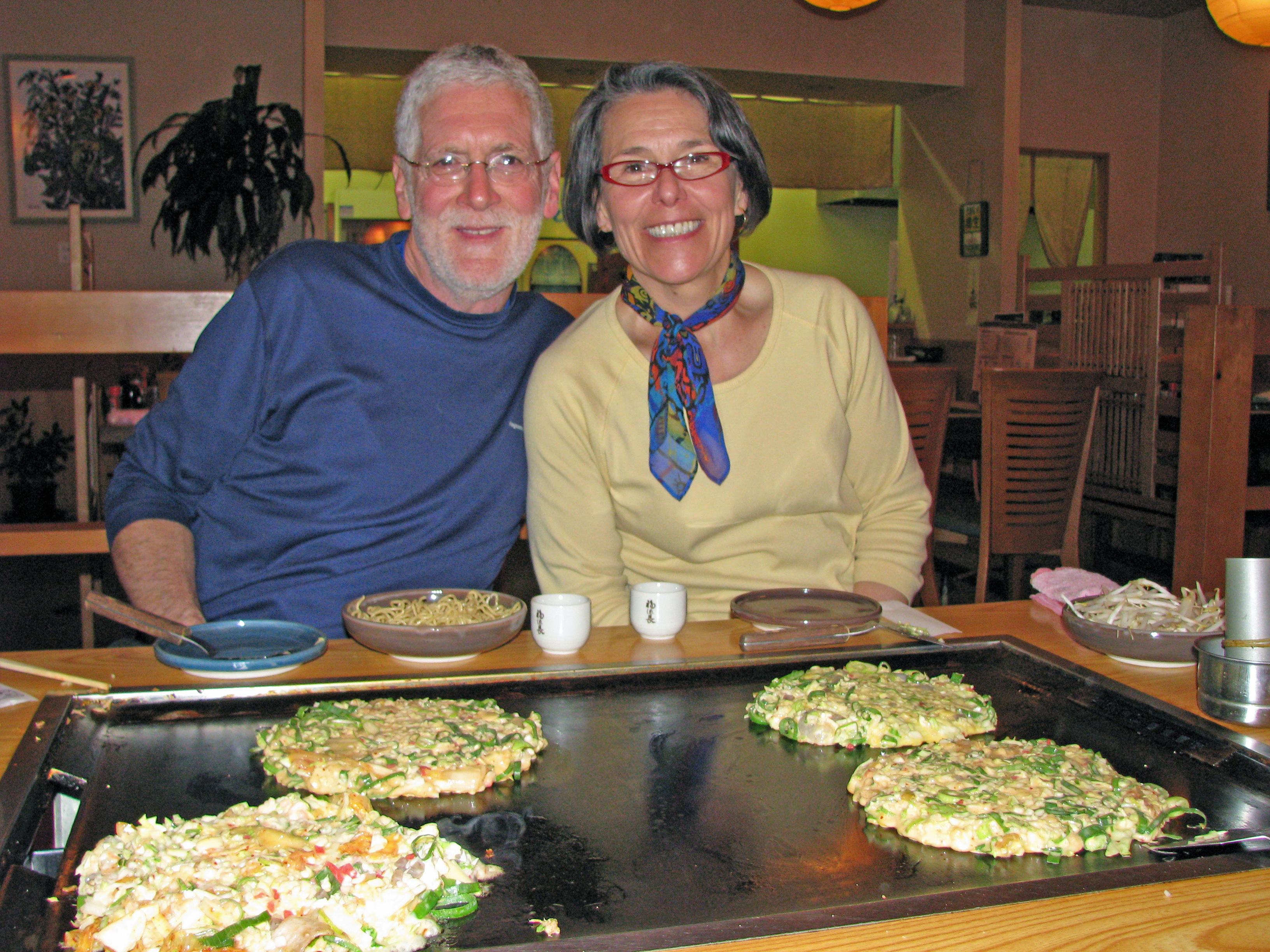 Cherry Blossoms Here, There, and Everywhere
The entire country seems to stop and picnic under the cherry blossoms, a tradition that is over a thousand years old. Those planning these "hanami" carefully watch the predictions of the weather bureau because the blossoms only last for a week or two.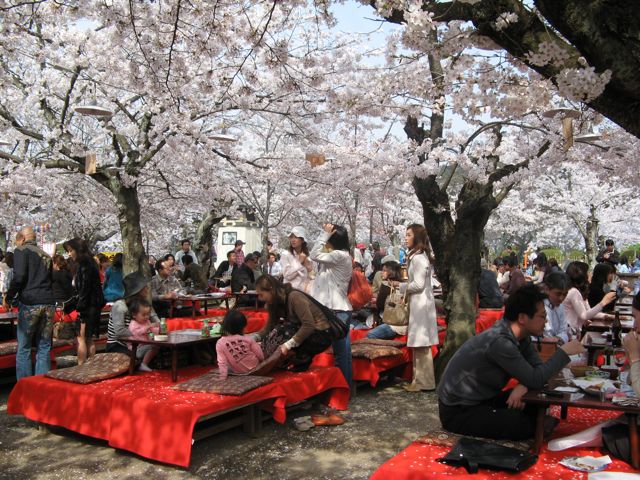 Hiroshima
The story of Sadako, the girl from Hiroshima who was two when the bomb was dropped and developed leukemia several years later, had always loomed large in our minds, but going to the Children's Peace Monument truly brought the story to life. A statue of Sadako depicts her with outstretched hands while a crane, the Japanese symbol of longevity and happiness, passes above her. After being diagnosed, Sadako began to fold origami cranes in the hope that if she could fold 1,000, she would live. Sadly, she did not survive, but her story lives on and children throughout the world send paper cranes that are displayed at the monument. They also ring the peace bell under her statue.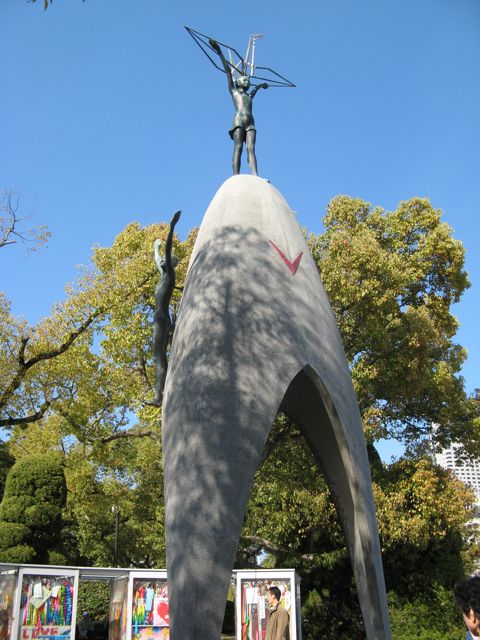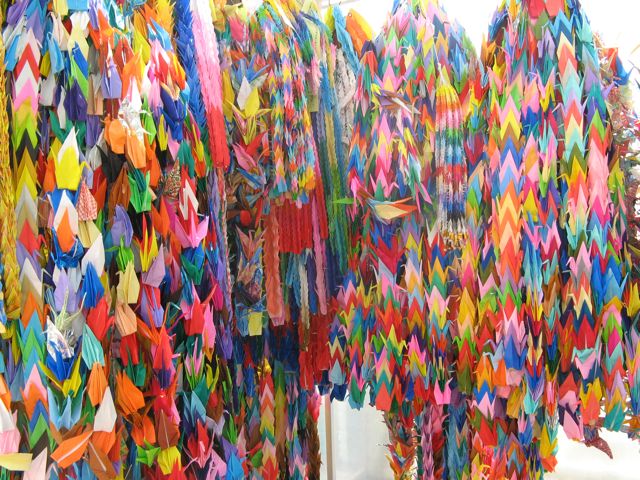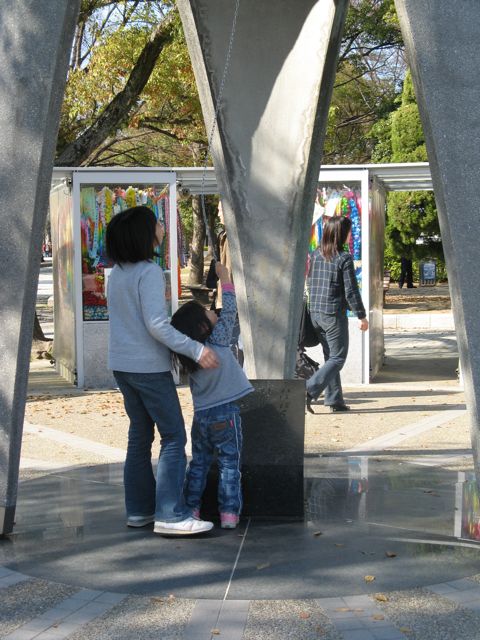 Miyajima Island
Visiting this beautiful island on the same day that we went to Hiroshima provided a welcome contrast. The torii (Shinto gate) which sits in the sea signifies that the entire island is sacred.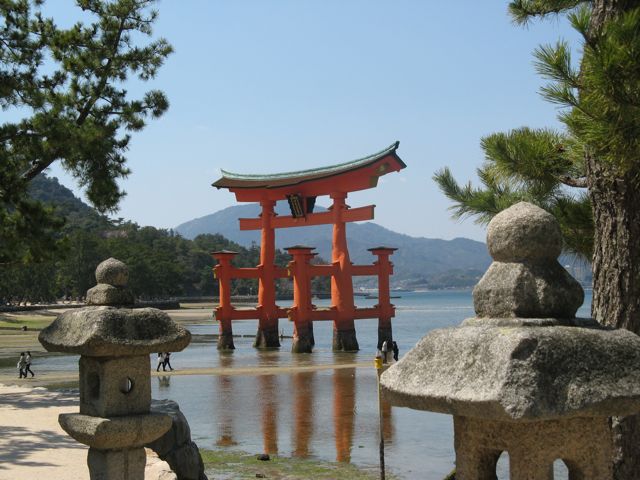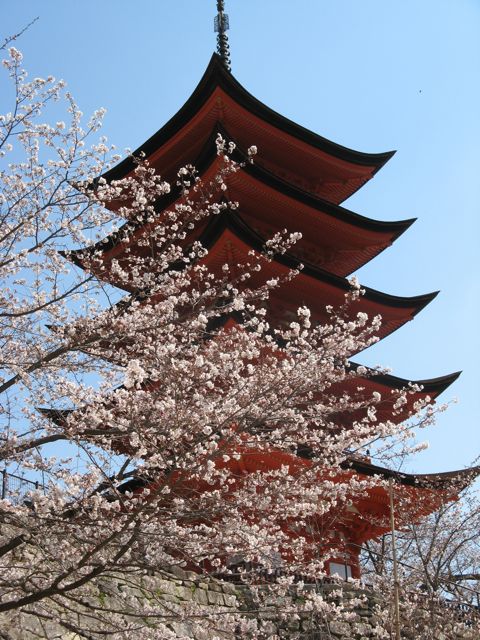 Kyoto
We spent three glorious days sightseeing in this old imperial capital at the very peak of the cherry blossoms. Pictured are a bamboo forest, two maiko (geisha in training), and us being served tea at a lovely restaurant where we ate lunch.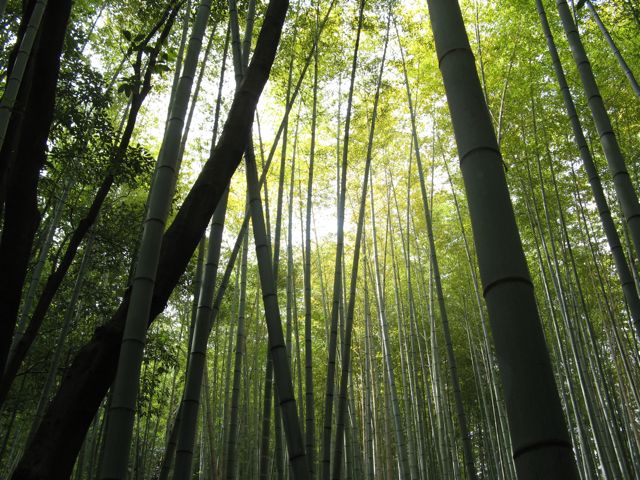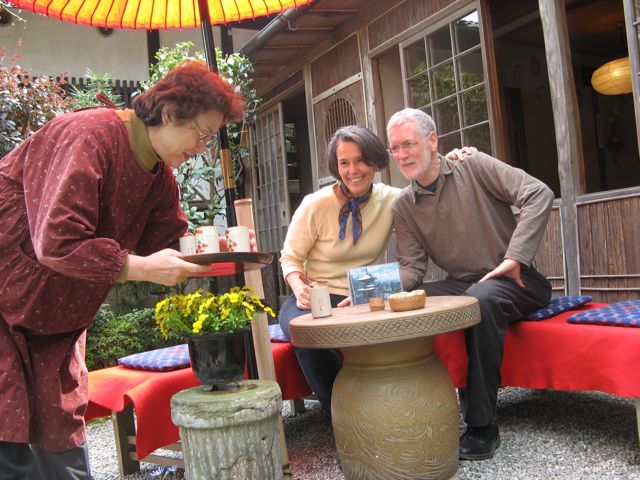 Kamakura
We spent a day wandering through this lovely seaside town. Photos show us at the entrance to Hasa-dera Temple; the Great Buddha which dates from 1252 and has survived earthquakes, tsunami, fires, and typhoons; and a wedding party that we happened upon.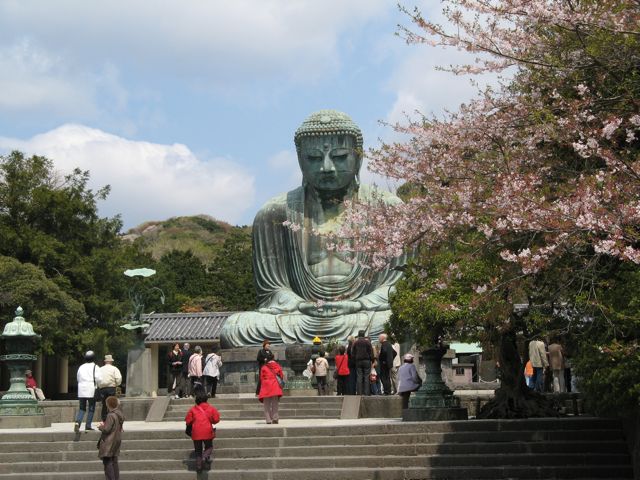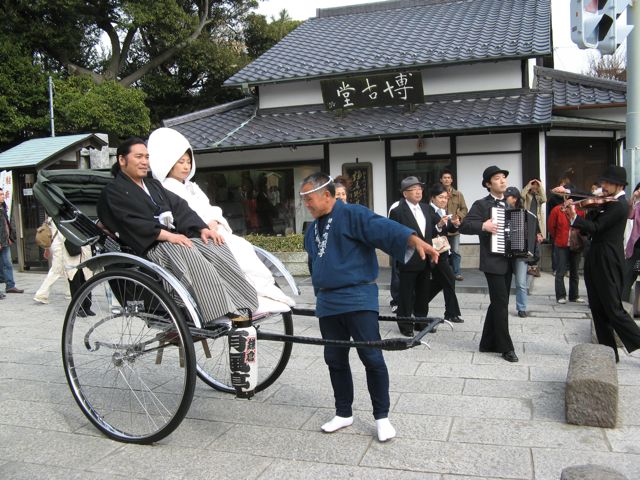 Tokyo
Photos show another wedding procession, this one at the Meiji Shrine; Senso-ji Temple, Tokyo's most sacred and spectacular temple; and perhaps our favorite experience of all because it was like nothing we ever had or will see again - the tuna auction at 5:30 AM at Tsukiji Fish Market. These enormous tuna, which can cost as much as $14,000, are bought by middlemen and resold to restaurateurs.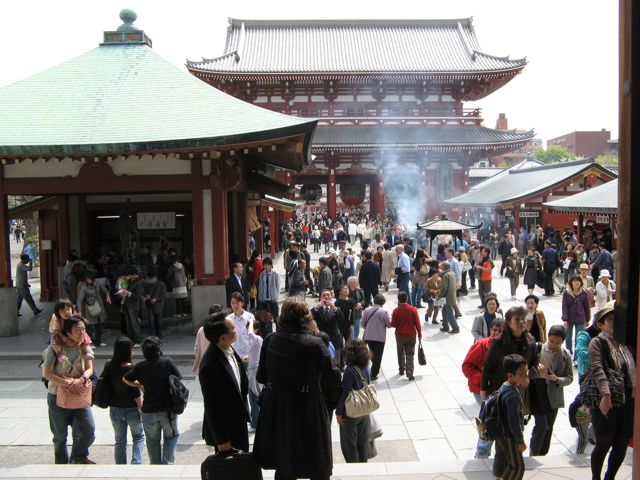 Storytelling
Yes, we really did work as well as sightsee. These photos were taken at St. Maur International School in Yokahama.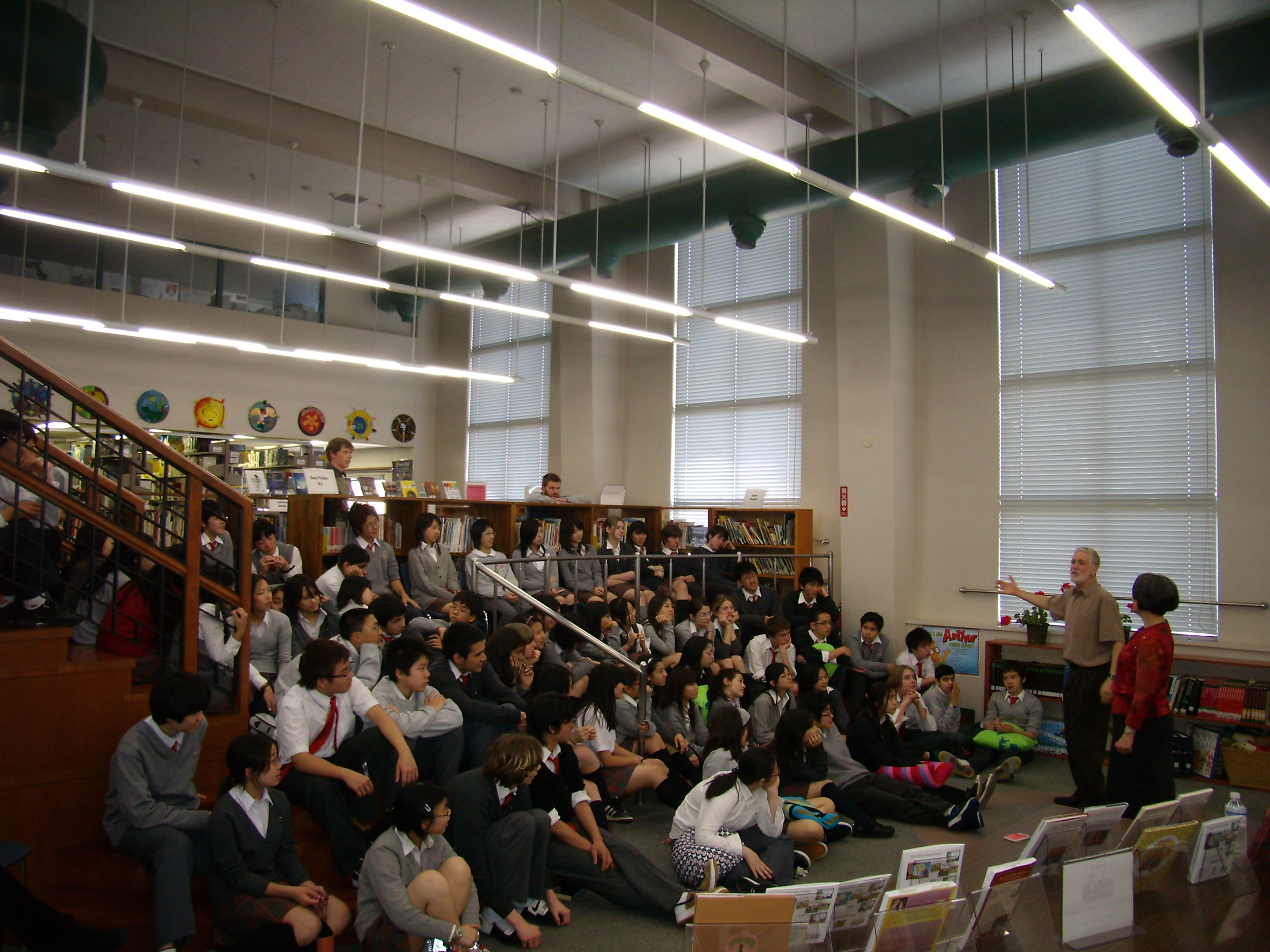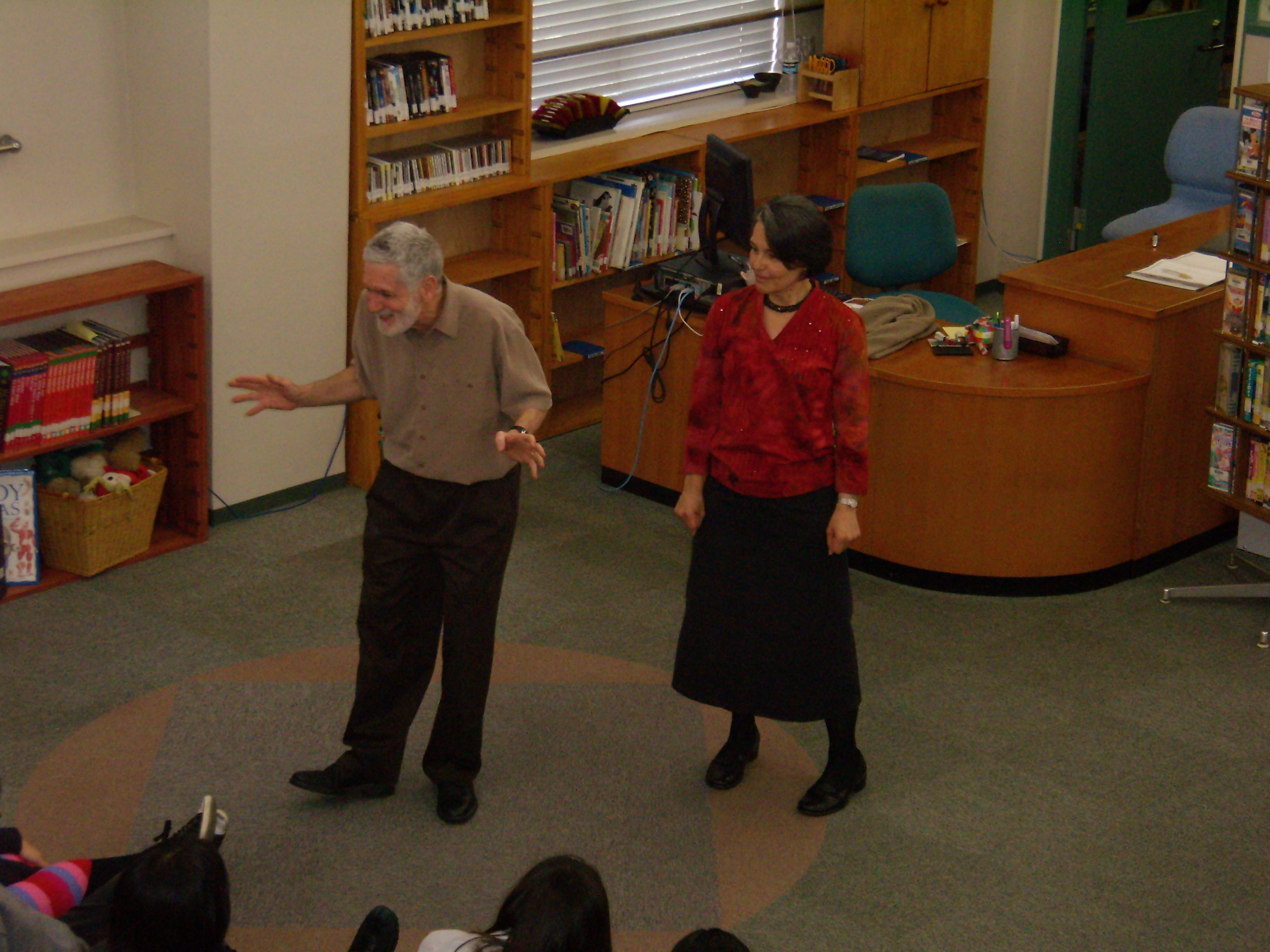 Our Trip to Berlin and Prague
In March 2007 we had a wonderful time telling stories at the Berlin Brandenburg School, a private international school where all classes are taught in English. Berlin highlights included seeing the walls of the ancient city of Babylon in the Pergamon Museum (see photo), the Jewish History Museum, the Brandenburg Gate, the Reichstag (see photo), and the remains of the Berlin Wall and Checkpoint Charlie.
In Prague we presented at the annual conference of the Central and Eastern European Schools Association; we had done a presentation for them in Bucharest, Romania in 2002. This was our fifth trip to Prague and, even though it has changed drastically since our initial visit in 1990 and seems to get more and more crowded each time we visit, it is still a joy to wander the streets and see the amazing sights. (We doubt we would enjoy it during the busy season in the summer, however.) The final night of the conference was a great treat - all participants were invited to a celebration at a restaurant right on the river beside Charles Bridge with delicious food and music by a band called the Apples - four young women who played lots of Beatles' songs as well as other favorites which had us and the rest of the crowd dancing up a storm. The photo is of the crowd gathering to see the hourly show of the world famous clock on the Old Town Square at night.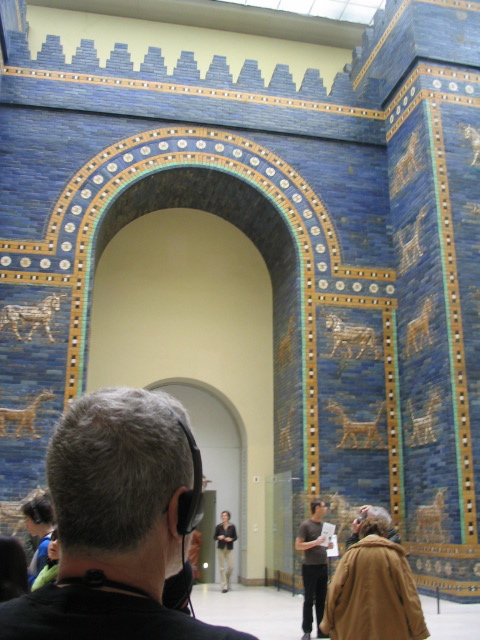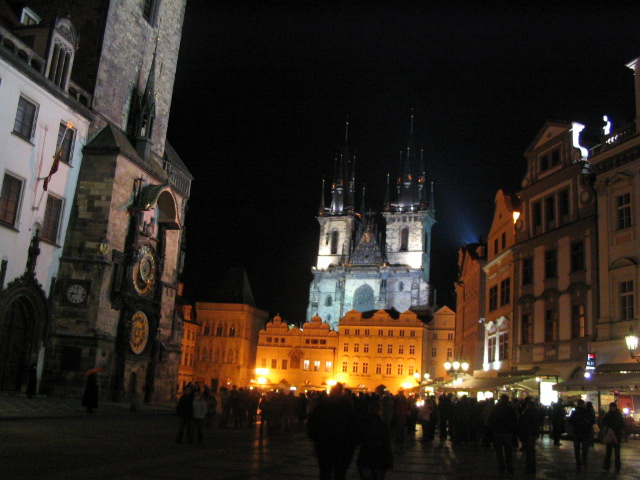 Our Trip to Montreal
In May 2007 we had a terrific time working at Selwyn House, a private school for boys. The three teachers with whom we worked not only did a great job of preparing the students for our visit, but they also turned out to be world class tour guides. When we were not working at the school we spent our time walking the beautiful streets of Montreal. It is like visiting a European city without leaving North America. The best way to get oriented is to walk up Mont-Royal which is part of a city park overlooking all of Montreal (see photo). We had the opportunity to attend one of Cirque de Soleil's performances (see photo of their tents). It was an experience that we will never forget. The performers took our breath away and the entire evening was magical. In our travels we always find time for a silly photo or two (see photo). Montreal is a city that we hope to return to soon.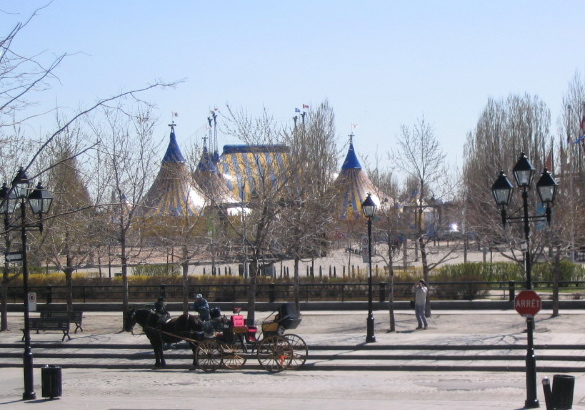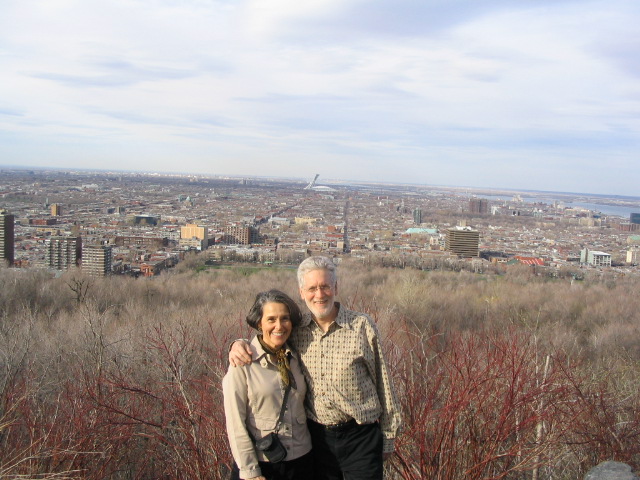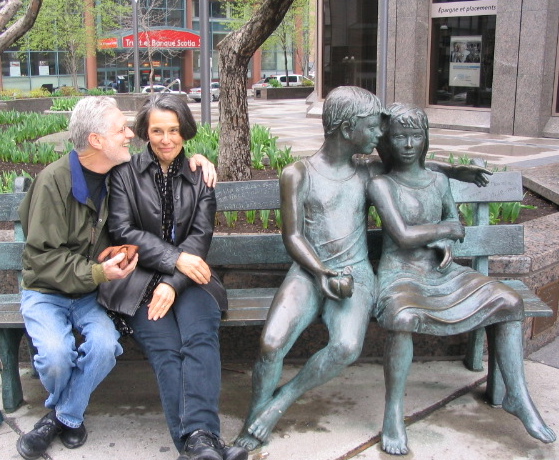 Our Trips to Taiwan and Hong Kong
In December 2006 we returned to Taiwan for our third trip in as many years. In fall 2005 we spent five weeks there and in Hong Kong giving speeches and leading workshops for teachers of English (from pre-school to college levels). After our original summer 2004 trip, workshop participants had requested that we return to give more in-depth, hands-on seminars. During the most recent trip in December, most of our time was spent telling stories for Taiwanese families at events that were held by East and West Publishers. This Taiwanese publisher arranged and sponsored all three trips and has published translations of many of our books.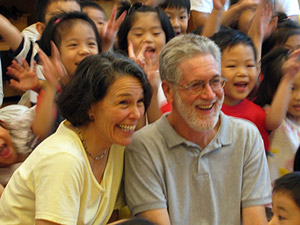 We have found Taiwanese teachers to be excited about the idea of teaching students to tell stories as part of their English language curricula. Likewise, parents and children are enthusiastic about putting books aside now and then and telling stories - whether old tales, new tales, tall tales, or small tales - to one another.
The Taiwanese people pride themselves on being good hosts but the people at the publishing company brought hosting to the level of a fine art. When we weren't working, they were feeding us delicious Taiwanese food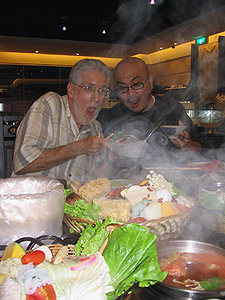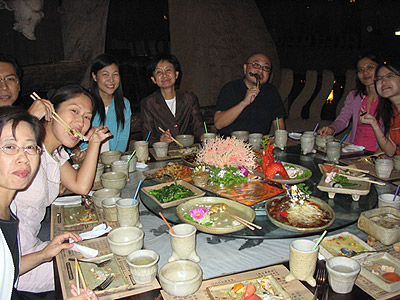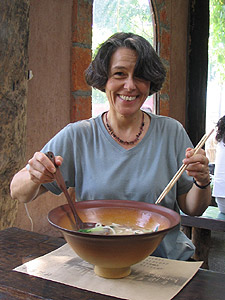 or showing us their beautiful country.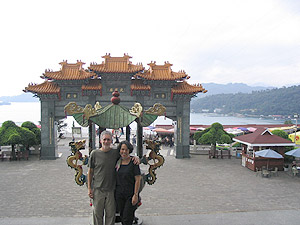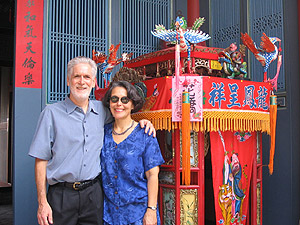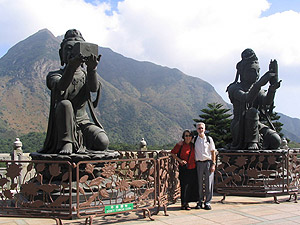 For a brief slide show with more highlights of our trips, click here.
New Books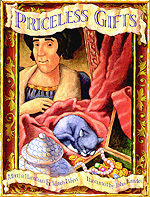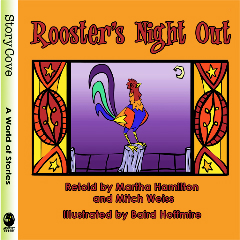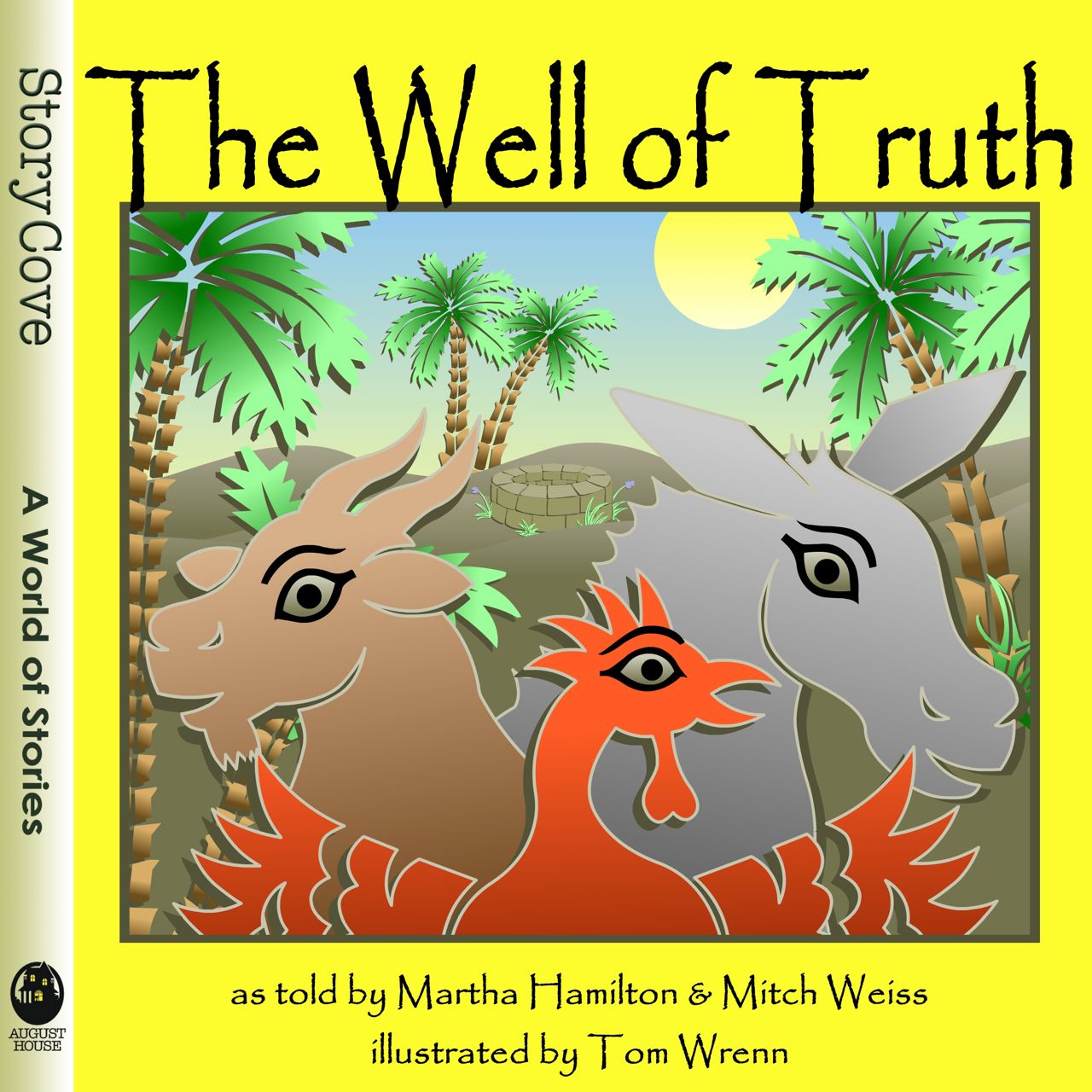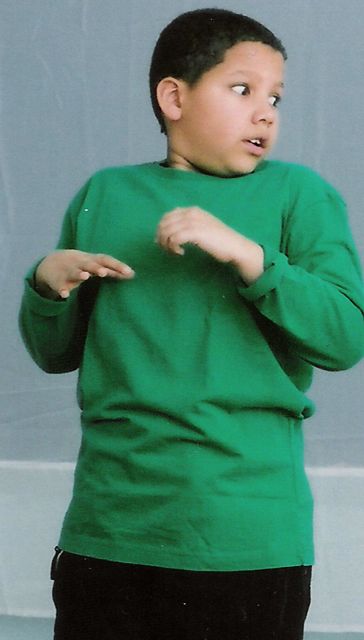 The Ghost Catcher wins Irma Black Honor and Storytelling World Award!
The Irma Simonton Black and James H. Black Award for Excellence in Children's Literature has been presented annually since 1973 by Bank Street College of Education. Irma Simonton Black was a writer and editor of children's books and a founding member (in the 1930s) of the Bank Street Writers Laboratory, which included such stars of children's literature as Margaret Wise Brown and Maurice Sendak. The Award is unusual in that children are the final judges of the winning books. First, an adult group of writers, librarians and educators choose approximately twenty-five books they consider the best candidates for the Award. These books are then given to classrooms at the Bank Street School for Children where the students read and discuss the books and select four finalists. These four books--called the Irma Simonton Black and James H. Black Honor Books--are placed in classrooms in several schools across the country where children choose the winner. We were thrilled that The Ghost Catcher was selected as one of the honor books.
The Ghost Catcher also received a 2009 Storytelling World Award! In this Bengali folktale, a generous barber uses his wits and his trusty mirror to outsmart some scary, but unintelligent ghosts. The beautiful illustrations are by Kristen Balouch who won the Ezra Jack Keats Award. Kirkus Reviews says "Balouch's bright, memorable illustrations create a fanciful Indian setting with crisp, colorful figures digitally placed on a fabric background for texture. Teamed with spirited and eminently tellable prose, they conjure up a colorful, magical land where cleverness can save the day."
Why Koala Has a Stumpy Tail, our retelling of a folktale from Australia, and The Well of Truth, a folktale from Egypt, are our latest addition to the Story Cove Line (see description below.)
Priceless Gifts wins Storytelling World Award
Priceless Gifts received a 2008 Storytelling World Gold Award! Kirkus Reviews wrote, ""Storytellers Hamilton and Weiss invoke the exotic days of the spice trade in their retelling of a traditional Italian folktale. . . Kanzler's sumptuous artwork deftly conveys the grandiose tenor of this folktale. Regal red hues and other deep jewel tones dominate the illustrations, while visible brush strokes create the crackled effect of an aged painting, furthering the antique feeling of the text. Readers will enjoy discovering this gem of a folktale from long ago."
This has been one of our favorite stories to tell for years. It's a compelling tale with a powerful message about what's truly valuable in our way too material world. The ending has a twist that is surprising, satisfying, and humorous. Children's Literature wrote, "Husband and wife storytellers Martha Hamilton and Mitch Weiss bring to life an Italian folktale set during the glory days of Italy's monopoly of the Spice Islands . . . Rich, jewel-toned illustrations laced with humor make this engaging tale a perfect introduction to studies of explorers and the spice trade, and will provoke lively discussions about gifts, especially the kind that money can't buy."
Story Cove: a series of Picture Books and animated movies from August House
Story Cove is a branch of August House Publishers. All Story Cove titles come from a variety of cultures and share simple, universal lessons and values. The 8x8 paperbacks, which retail individually for $3.95, are supported with lesson plans that match the NCTE national standards. These books are also sold as part of Story Cove Teacher Activity Packs that include: 7 copies of the Story Cove book; differentiated lesson plans for 4 grades; and a CD with the animated version of the story, read-along audio tracks, along with accompanying activities, projects, and games. We have five Story Cove titles thus far. (Note: Only individual titles are for sale on our site; go to Kaplan Early Learning Company to order the Teacher Activity Packs. Only two of our titles are available in the activity packs at this time.
The Well of Truth is a folktale from Egypt in which Goat, Rooster, and Donkey try their luck at farming together. Donkey, however, is unwilling to share and learns his lesson at the Well of Truth.
Why Koala Has a Stumpy Tail is an Australian folktale in which lazy Koala loses not only his long tail but also his good friend, Tree Kangaroo.
A Tale of Two Frogs, which was inspired by a Russian Folktale, tells of how two sister frogs fall into a bucket of cream and learn the importance of never giving up.
Rooster's Night Out is a chain story from Cuba in which Sun helps Rooster to get cleaned up for Heron's party. As a sign of gratitude, Rooster crows every morning to wake Sun up.
The Stolen Smell is a folktale from Peru in which a baker is so stingy that he wants to charge his neighbor just for smelling his baked goods. When he takes his case to court, the wise judge decides to teach the greedy man a lesson.

Scared Witless: Thirteen Eerie Tales To Tell
If we ruled the world, children would be encouraged and given numerous opportunities to tell stories - folktales from various cultures, stories written by their favorite authors, and, of course, their own stories. This would be done formally and informally, to one person and in front of a group, in school and at home. Teaching children to tell stories helps them to find their own voices. It also creates excitement about reading and writing their own stories. When we work in classrooms teaching students to tell, teachers note that students are really excited about reading and telling more tales from our books. They love all kinds of stories - from silly to serious, from pourquoi tales that explain something peculiar about an animal or natural phenomenon to "noodlehead" stories about fools from which children, surprisingly, learn a great deal. But if we had to choose their most beloved genre of stories for telling, it would undoubtedly be scary tales. Stories such as "Tilly," "The Golden Arm," and "On a Dark and Stormy Night" from Stories in My Pocket: Tales Kids Can Tell have always been huge favorites in every classroom where we've taught student tellers.
It's never been easy to find scary stories that we feel are appropriate for the elementary classroom, so we decided to write our own collection. Kids will love entertaining their friends, family, and classmates with these jump tales and shaggy-dog stories. As with all the stories in our collections, these tales are tried and true - we've seen countless students tell them. They're not too gory or too scary and all have elements of humor. Kirkus Reviews calls them " . . . just right for inducing 'goosebumps, gasps and giggles' in susceptible audiences of any age."
Keep checking back for information on new books because the kids keep us excited about retelling more folktales. Yes, we do have the best job in the world - as we toil away in our office retelling tales, it is with a picture in our minds of how the children's faces will look as we tell the tale - "storystoned" is the very apt word that we recently heard educator/storyteller Rosemary Vohs use to describe their slack-jawed, totally engaged faces and perfectly still bodies. If not that image, then it's the picture of a child telling the tale to a rapt audience of his/her peers. Well, others might argue that there are better jobs, but we're sure having fun!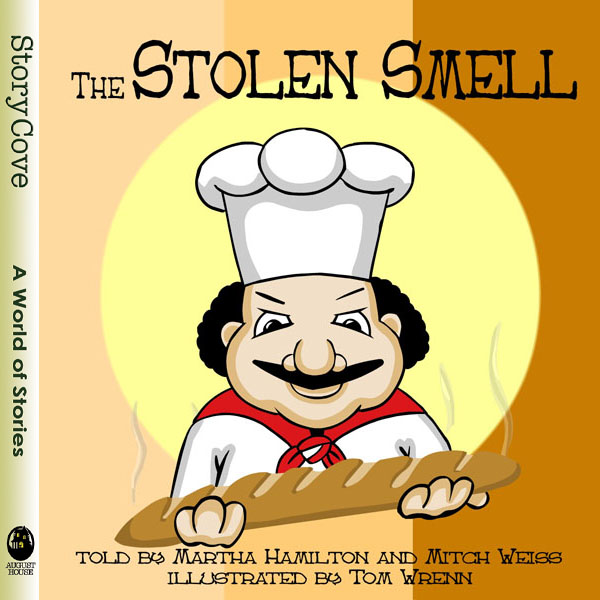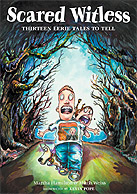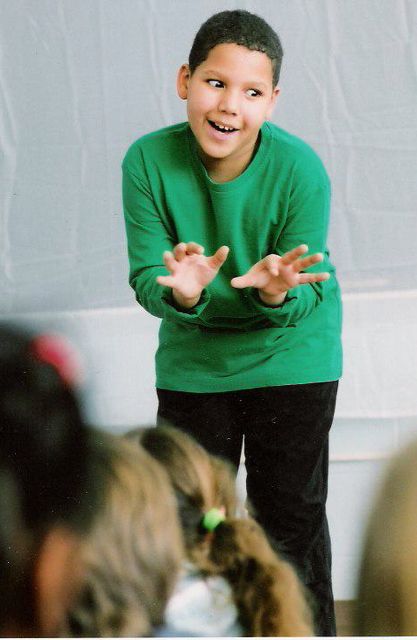 Children Tell Stories Receives Rave Reviews and Storytelling World Gold Award
Susan Hepler, writing for Children's Literature, says "Anyone who works with children will be amazed at the power of storytelling to move listeners and tellers alike. This book exemplifies that power. Adults can easily get children started with the helpful instructions, narratives, examples, quick exercises or hint boxes, and story bibliographies provided. . . A supplemental DVD shows winsome real children telling stories in a variety of settings: a third grade workshop, a family storytelling night, and at school. Practicing classroom, ESL, and literacy teachers explain why this skill is so important to children's reading, writing, speaking, and thinking. . . It is a great package for parents, teachers, club leaders, and drama coaches to help children discover and rejoice in their, perhaps newfound, abilities to spin stories in ways that will enchant listeners. . ." Read more reviews
The second edition of Children Tell Stories is almost a completely new book. It provides compelling rationales for the value of storytelling, links to state literacy learning standards, detailed storytelling tips, easy ideas for storytelling curriculum, and carefully selected and extensive bibliographies. Children Tell Stories is useful to both experienced and novice teachers and storytellers who work with students from preschool through college.
The really exciting news is that Children Tell Stories has a companion DVD included in the back jacket. Award winning filmmaker Peter Carroll (www.petercarrollproductions.com) followed us around in January 2005 and documented our storytelling project in Karen Powers' third grade class at Northeast School (Ithaca, NY). Peter currently has a contract with the Smithsonian Institution and has done lots of educational films for National Geographic. He ended up with eighteen hours of footage (including interviews with students, teachers, administrators, and parents). Peter magically distilled this to a twenty-minute feature film. The film includes older students telling as well so it can be shown to students of all ages as an introduction to a storytelling unit. (It can also be shown to teachers or administrators to convince them of the power of storytelling.) There is also a separate menu with four young tellers sharing their entire stories at a family storytelling event. For more information, see About the DVD.
We now have four books available as part of Richard C. Owen Publishers' "Books for Young Learners" series. These small, beautifully illustrated picture books are reasonably priced and thus perfect for use in the classroom. (That doesn't mean they can't be used elsewhere!) We have been teaching younger children to tell stories lately and have rewritten a number of very short, simple folktales and fables in language that makes them accessible for telling by first, second, and third graders as well as older students with learning problems. (Older student tellers are amenable to using picture books when their goal is telling to younger children.) Richard C. Owen Publishers plans to have a few of these picture books coming out each year. Eventually there will be a critical mass that will make it much easier for teachers of younger children to have every child choose a simple, very short tale to tell.
---