Books and Recordings
Priceless Gifts: A Folktale from Italy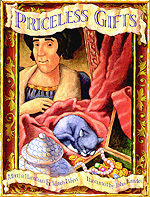 2007, August House Publishers (LittleFolk). Illustrated by John Kanzler
1-800-284-8784 or www.augusthouse.com
Winner of a 2008 Storytelling World Gold Award
To download lesson plans and a Common Core Standards Checklist for this book from August House Publishers click here.
This has been one of our favorite stories to tell for years. It's a compelling tale with a powerful message about what's truly valuable in our way too material world. The ending has a twist that is surprising, satisfying, and humorous. Best of all, the illustrations, which were done by John Kanzler, look like paintings by an old Italian master.
"Storytellers Hamilton and Weiss invoke the exotic days of the spice trade in their retelling of a traditional Italian folktale. Antonio, a Genoese spice merchant, sails forth to faraway islands seeking to ply his trade, exchanging goods for spices. Entertained by residing royalty on an island he is doing business with, Antonio discovers they are plagued by rodents. The kindhearted trader offers the king a pair of felines to rid him of his pesky problem, and the grateful monarch showers the tradesman with jewels in thanks. When a greed-driven coworker of Antonio's arrives at the same island laden with valuable gifts, he anticipates a wealthy reward. However, Luigi is soon surprised to discover the King's definition of a priceless gift. Kanzler's sumptuous artwork deftly conveys the grandiose tenor of this folktale. Regal red hues and other deep jewel tones dominate the illustrations, while visible brush strokes create the crackled effect of an aged painting, furthering the antique feeling of the text. Readers will enjoy discovering this gem of a folktale from long ago. An author's note regarding spice trade and related titles is included."
- Kirkus Reviews
"Hamilton and Weiss bring to life an Italian folktale about the true value of a gift. A merchant visits an island with no cats to keep the rats at bay and happily gives the king two felines from his ship. The ruler insists on rewarding Antonio with a chest of jewels. Upon Antonio's return to Italy, another merchant, Luigi, hears of this good fortune. He decides to visit the island himself, believing that if the king rewards a gift of cats with such generosity, then he will recompense Luigi even further for the gift of sculptures, paintings, and fabrics. Luigi is dismayed to find himself rewarded with a kitten, but comes to understand that he has been given a most-valued possession. An author's note provides background on the folktale. Kanzler's warm-hued paintings evoke traditional images of European travel, from ornate borders and maps to an exotic turban-clad king and the bare-chested islanders of his company. Despite the mythologized imagery, the feline motif will appeal to a wide audience, and adults looking for folktales that are accessible to younger readers and listeners will appreciate the short text and upbeat tone."
-School Library Journal
"Award-winning collaborative writers Martha Hamilton and Mitch Weiss present Priceless Gifts, a picturebook set back in the centuries when merchants sailed the seas in pursuit of spices and seasonings, which were so rare that only the wealthiest could afford them. When Italian merchant Antonio sails to the Spice Islands, he meets a king plagued with rodents. Fortunately, Antonio has just the right remedy aboard his ship - a pair of cats! Richly repaid for his gift, Antonio retells his incredulous story, incurring the jealousy of rival merchant Luigi. 'The king of that island gave Antonio all those rare jewels and stones for two worthless cats,' Luigi said to himself. 'Why, the poorest peasant could have given him that gift. Imagine what the king would give me if I brought him something of real value.' But when Luigi returns to the Spice Islands with riches of every conceivable sort, he fails to keep in mind what is not valuable to him is valuable beyond compare to others! Sweeping color illustrations embellish this story that young cat lovers especially will find delightful."
- Midwest Book Review
"Husband and wife storytellers Martha Hamilton and Mitch Weiss bring to life an Italian folktale set during the glory days of Italy's monopoly of the Spice Islands. The hero of the story, Antonio, leaves Genoa with a ship filled with goods to trade for valuable spices, such as cinnamon, cloves, and nutmeg, which could be found only on these islands so far from Europe. When Antonio sits down to eat with a king, he is dismayed to see rats run in to share the feast. 'Don't you have any cats on this island?' he asks, but the king has never heard of such an animal. Fortunately, Antonio has several cats on his ship and gives a tabby and a tomcat to the grateful king. In appreciation, the king presents Antonio with a jewel-filled chest. When Antonio returns to Genoa, a rival merchant named Luigi, filled with jealousy, determines to return to the island and shower the king with gifts in hopes of receiving greater treasure in return. The king does share his most precious possession with Luigi - but it is not exactly what the greedy merchant was expecting. Rich, jewel-toned illustrations laced with humor make this engaging tale a perfect introduction to studies of explorers and the spice trade, and will provoke lively discussions about gifts, especially the kind that money can't buy."
- Children's Literature
"What makes a gift priceless? Is it the same for everyone in every place, time or culture? Get serious answers spiced with a touch of humor from this retelling of an Italian folktale. There's an obvious moral as an honest trader gets a royal reward for his favor to the King while a greedy trader gets his comeuppance. The short text sports large jewel toned illustrations laced with funny details. Includes author's end notes with facts on the spice trade."
- Kansas State Reading Circle 2008 Recommended Reading List
"This amusing adaptation of a cherished folktale serves as a useful vehicle for teaching children a standard lesson in economics about the gains from trade. Antonio got spices, which were much sought-after in Europe, in exchange for Italian goods, which the Islanders did not produce themselves. The second trade made both parties even happier, with Antonio gaining a chest full of jewels and the King securing an end to the rat problem. Priceless Gifts offers a clever mix of economics, history, and story-telling in a cheerfully-illustrated package."
- Yana V. Rogers, Rutgers University Project on Economics and Children
"Hamilton and Weiss retell a traditional tale in which a kind merchant named Antonio is rewarded for solving a problem for the king of the Spice Islands. When another merchant, Luigi, learns of Antonio's story, he greedily tries to gain a reward as well. Without giving away too much, I can say that children will be entertained by the way the story unfolds. It will easily encourage conversations about their own 'priceless gifts.' Illustrations by John Kanzler are lively and engaging."
- Ithaca Child