Performances
Who's the Beauty and who's the Beast?
We never tell - You decide!
Tales as Old as the World and New as the Morning Dew
Technology has not replaced the power of telling a story. A stillness descends over the listeners, a "hush" that author/storyteller Jane Yolen describes as "the centrifugal force of the spinning story." Mitch and Martha tell stories with zest and a warmth that immediately engages their audiences. They tell for all ages, and in settings ranging from elementary school assemblies to theaters and senior citizen centers.
Mitch and Martha bring to life traditional folktales from around the world, works by contemporary authors, stories from their own experiences, and tales based on historical people and events. Their specialty is "tandem" storytelling, where they combine their contrasting styles, swapping lines and impersonating characters. Drawing from their large and varied repertoire, they are masters at tailoring performances to suit the specific audience or grade level; they always present a different program when returning to a school.
Mitch and Martha have traveled as far as Japan and Taiwan to perform and teach others to tell. "Beauty and the Beast" have also completed numerous tours of European International Schools. Among the places they have told stories are Prague, Vienna, Hong Kong, Berlin, Munich, Florence, Milan, Genoa, Madrid, Moscow, London, and Budapest.
Performance Reviews
---
"Two of the most gifted, dramatic, and entertaining storytellers I have ever seen. They know how to bring folklore alive for audiences of all ages."
Alison Lurie, Professor
Cornell University
Winner of the Pulitzer Prize for Fiction

"As Executive Director of the Central and Eastern European Schools Association, I bring many people to our region to act as consultants to member schools. 'Beauty and the Beast Storytellers' consistently receive rave reviews and thus rank at the top of the list. Their storytelling presentations are great; students of all ages love them. I have had them back time and again because their teacher workshops and conference presentations are also outstanding. Additionally, their numerous award winning books help assure that their school visits will have a lasting effect and make them a natural choice for Author Visits. To top it all off, they are a pleasure to deal with and very organized which makes scheduling and arrangements a painless procedure. I highly recommend Mitch and Martha as consummate professionals whose passion for what they do always shines through in every performance, workshop, or keynote address."

David M. Cobb
Central & Eastern European Schools Association

"Mitch and Martha were the highlight of our annual Storytelling Festival. Whether performing for kids or adults, their stories are both captivating and enthralling; they never failed to hold the attention of the audience. These seasoned professionals are also excellent teachers whose engrossing master class helped make our festival a success. They are Festival favorites!"
Rick Davis, Executive Director
The 1891 Fredonia Opera House

"Before a sweet couple named Mitch and Martha first visited Taiwan, storytelling was not a common practice in our culture. Fortunately, Mitch and Martha have now visited several times and shown teachers, parents, and even children the joys and techniques of storytelling. In addition to telling stories and showing us the enjoyment of listening, Mitch and Martha's excellent storytelling books are now available here. Parents and teachers have begun to tell stories at home and in school. More importantly, kids have more smiles on their faces and they have started to tell and even make up funny stories! Educators now understand that storytelling has strong influences on children's language and other cognitive developments. Workshops and storytelling classes are now everywhere in Taiwan.
We wish that we could have them back in Taiwan next year and the year after that and for all the years to come. How fortunate we now are to have this great tradition alive in our country"
Wenli Tsou
A mother of three, a teacher, a teacher educator, and a story lover
Professor, Dept. of Languages & Literature
National Cheng Kung University
Tainan, Taiwan

"When it comes to professional storytelling and captivating an audience, Mitch Weiss and Martha Hamilton put it all together."
Jim Trelease
Author of The Read-Aloud Handbook

"Mitch and Martha, Beauty and the Beast Storytellers, were the bright spot in a cold rainy day in Tokyo. They spent a morning at the American School in Japan, Early Learning Center where they capitivated our three, four, five and six year olds and the grown up members of their audience as well. Mitch and Martha are master storytellers who use facial expression, gestures, voice inflection, and pantomime to tell their stories and delight their audience. The children are still talking about and retelling their stories.
Judy Beneventi,
Director, The American School in Japan, Early Learning Center

"I want to express my gratitude and excitement over your performances at T.J. Connor Elementary School this year. Despite the weather and your packed schedule, you managed to make it to Scottsville and provide our students with an unforgettable performance. The storytelling "buzz" continued throughout the school year and was mentioned as one of the highlights of the entire year.
Your visit was all that I hoped it would be and more. You energized and motivated our students as they prepared to enter the world of storytelling. I don't think our experience would have been the same without having had your presence as a catalyst for our storytelling program. Forty-five of our students were able to perform their own stories at our Read Around America Fair in late March. Many of them have performed again at school for various classes and events. You have been an inspiration to everyone here at T.J. Connor. Because I had read and used your wonderful books, I was expecting to be dazzled, but your work was even more incredible than I expected!"

Letter from Ann Bayer, Classroom Teacher
T.J. Connor Elementary School
Scottsville, New York

"You received rave reviews from one and all at Goshen Intermediate School. Several parents told me today that their child told several of your stories at home last night, just as they had heard them from you...with inflection, cadence, dramatic pauses and all!"

Mary Ann Knight,
Principal, Goshen Intermediate School
Goshen, NY
top of page
"I have known Mitch and Martha over twenty years and never tire of bringing their vibrant brand of tandem storytelling to my students. Martha's gentle approach, along with Mitch's boisterous and flamboyant style, are perfect for the stories they tell, from the poignant to the downright silly. They incorporate a variety of audience participation techniques and truly bring the magic of traditional literature alive to both children and adults."

Linda Caswell, Principal
Mill Road Elementary
Red Hook, NY

"Mitch and Martha treated our students to a wonderful, magical day. Their stories nourished imaginations starved by a steady diet of television, movies, and video games. Beauty and the Beast inspired our students and left us with a vivid tapestry of tales that we will be retelling again and again."

Pamela Gunter, School Library Media Specialist
Arleth School
Parlin, NJ

"Once upon a time two storytellers came to our school. At first I said this is going to be boring, but it was the best storytelling I've ever seen. Your stories made me laugh and believe me, it's hard to make me laugh. Please come back - tomorrow!"

David, 7th grader
American School of Milan (Italy)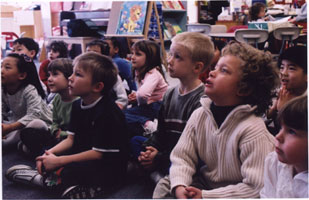 "Mitch and Martha visited the Lower and Middle Schools of the American International School of Vienna for two days late last month. They performed for children in grades kindergarten through eighth grade and presented a workshop for teachers following their first day of performances. The reaction to their presentations and workshop was unanimously and enthusiastically positive. The children from all grades were enthralled with the stories that Mitch and Martha presented. Teachers, too, were captivated by the skill and ardor of the presentations. It is interesting to note that Mitch and Martha were able to focus their stories to the levels of each group for which they performed. They selected stories that had a particular fit for the children of each grade level. I heartily recommend that you pursue Mitch and Martha and bring them to your school. They made a great contribution to the American International School in Vienna and I have no doubt that their performances will serve to enhance your program, too."

Michael Colaianni, Middle School Principal
The American International School of Vienna
Vienna, Austria

"Mitch & Martha bring a new vibrancy to the traditional format of storytelling. With enormous talent, high energy, animated bodies and expressive faces, they capture and hold the attention of their listeners. Their sincerity, perfect timing, comedy, poignancy, and song truly make Mitch and Martha masters of their craft."

George C. Konder, Program Manager
Landmark Theater, Syracuse, NY