Books and Recordings
The Stolen Smell
A Picture Book Illustrated by Tom Wrenn.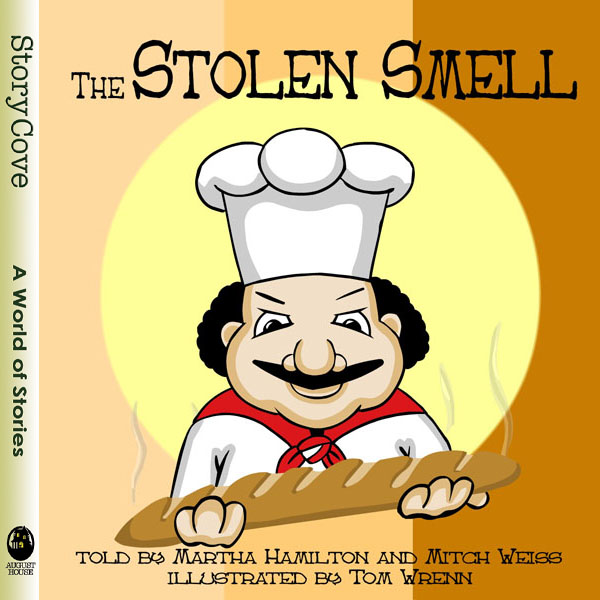 2007, August House Publishers (Story Cove). Illustrated by Tom Wrenn.
1-800-284-8784 or www.augusthouse.com/
To download lesson plans and a Common Core Standards Checklist for this book from August House Publishers click here.
To watch a video of this book click here.
The Stolen Smell is a folktale from Peru in which a baker is so stingy that he wants to charge his neighbor just for smelling his baked goods. When he takes his case to court, the wise judge decides to teach the greedy man a well-deserved lesson. This story is part of the Story Cove series from August House Publishers. All Story Cove titles come from a variety of cultures and share simple, universal lessons and values. The 8x8 paperbacks, which retail individually for $3.95 to $4.95, are supported with lesson plans that match the NCTE national standards. These books are also sold as part of Story Cove Teacher Activity Packs that include: 7 copies of the Story Cove book; differentiated lesson plans for 4 grades; and a CD with the animated version of the story, read-along audio tracks, along with accompanying activities, projects, and games. Only individual titles are for sale on our site; go to Kaplan Early Learning Company to order the Teacher Activity Packs. (Only A Tale of Two Frogs and Rooster's Night Out are available in the activity packs at this time.)
"A greedy and miserly baker insists that his neighbor, who can barely afford to buy stale bread but savors the wonderful aromas from the bakery, pay for the "stolen" smells. Although the neighbor is baffled and the townspeople are amused by this demand, the baker takes the matter to court. A clever judge applies the baker's logic to resolving the case and rewards the baker with the sounds of the neighbor's coins clinking together. The Stolen Smell does a nice job in adapting an old folktale to a new setting, and in doing so serves as a useful source for teaching a quick lesson in economics that sometimes production can yield an external benefit for which consumers do not need to pay."
- Yana V. Rogers, Rutgers University Project on Economics and Children
"'Story Cove' is a series of very highly recommended stories and folk tales from around the world for beginning readers that combines charming and colorful artwork with simple, easy-reader texts ideal for children ages 4 to 8. These 32-page picturebooks emphasize different character traits and values such as courage, sharing, citizenship, fairness, and resourcefulness, and are further enhanced with a Story Cove website offering series related movies, games, and more. The series titles would make particularly good choices as school and community library reading program incentive prizes."
- Children's Bookwatch of the Midwest Book Review