Books and Recordings
Forty Fun Fables: Tales That Trick, Tickle, and Teach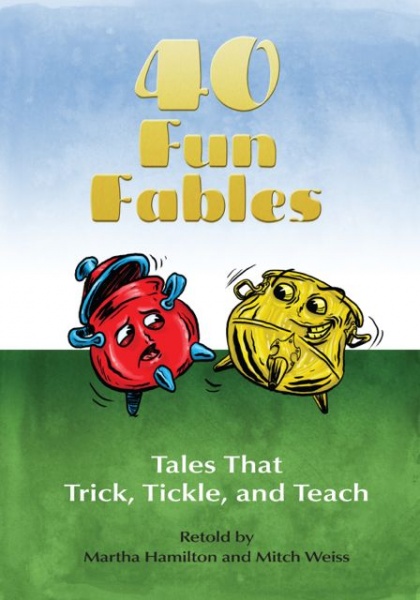 Our retelling of these forty fables grew out of our desire to find and retell fables that had an element of fun-something that made children laugh or perhaps had a "twist" that surprised them in some way. The versions of the fables in this book are our own, but we have learned a great deal from watching children tell them in their own words. Have fun with these fables-perhaps just by reading and enjoying them, or you may choose to follow up with some of the suggested activities.
"Animals don't talk but they appear in fables to tell us about our very human selves. This classic collection of whimsical stories is told simply with wit that appeals to children of all ages. In reading these tales, the lessons of many cultures are passed along and wisdom is shared. Young readers will be highly engaged and entertained by the fools, tricksters, and clever characters who appear in these timeless stories."
- The Children's Book Council
"40 Fun Fables: Tales That Trick, Tickle and Teach is a cleverly illustrated collection of traditional teaching tales, many of them attributed to Aesop, presented in short chapters for an audience of mainly third and fourth grade readers, with some selections for younger grades K-2. The famous husband and wife team known as 'Beauty and the Beast Storytellers' presents each tale in a condensed, complete narrative, with witty black and white illustrations of story characters and a pithy moral written in bold and italics at the end of the fable. Fables are an ancient entertainment and teaching genre, popular with young audiences. 40 Fun Fables is divided into four sections: Starter Stories, Next Step Stories, Challenging Stories, and Most Challenging Stories. In addition to some familiar favorites there are additional traditional fables from other countries, such at Two Stubborn Goats (from Cameroon), The Happy Man with Holes in His Bucket (India), and the Oyster and the Heron (China). In addition to the 40 fables, there are suggested activities, story sources, and a discussion of How This Book Can Help Children Meet Common Core State Standards, as well as further suggestions in Common Core State Standards Addressed By Reading, Discussing, Retelling, and Making Up Fables. "40 Fun Fables: Tales That Trick, Tickle, and Teach" is an excellent teaching resource and a fun experience to introduce to children in elementary grades."
- Midwest Book Review
"The authors have taken these traditional stories and made them more understandable to the child of grade-school age. You can find a variety of books like this. However, where this book truly shines is in its uses for the classroom teacher. The second half of the book, dedicated to using these tales in the "Common Core" education standards is excellent. We think this detailed cross-referencing will be invaluable to the teacher who needs to support great lesson plans using oral storytelling for theater and language arts. As well, short classroom activities are included that round out the usefulness of this volume. While in our opinion this might not be a book you pick up for bedtime stories, if you are doing any type of education of children from the formal classrooms to homeschooling, you'll be able to make use of this book. This is a work-horse book, one that will be a tool for your work with children. ."
- storyteller.net
"This is a collection of forty fables that have been retold and, in some instances, illustrated. They are mainly based on those of Aesop but there are other examples from around the world. The morals associated with the fables are cited at the end of each fable. They are grouped into four sections according to their readability, making it easier for parents and teachers to choose appropriate ones for either their child or themselves to read. There is an additional section giving guidance to teachers and parents on the contents of the book and promoting encouraging children retelling fables they have read or heard. The authors also provide examples of how the fables can be used to address specific Common Core Standards and whilst these standards are not applicable in every country, the suggested activities are still highly relevant and very useful for teachers whichever country they are in. This is a very useful, interesting and enjoyable collection which children will enjoy reading. The additional guidance is well thought out and presented, making this even more useful to teachers who intend sharing and working on fables with their pupils."
- Elaine Brent
"A wonderful book of folktales that teach simple life lessons. These are easy to share stories about animals that act like people and face many of the same problems children will face. This lovely collection contains many of the better known fables and some that I was not familiar with. All in all, an excellent book to share with children."
- www.maryblogs.com